For Learners/Participants
Simply browse the Abacus Marketplace and select a listing.
You may contact the host before a session is purchased or you can just book the session.
You may use your credit/debit card to book a session.
Many listings are for regularly scheduled sessions. Be sure to check the description for the next available group or individual session and plan accordingly.
On Abacus, as with many peer-to-peer marketplaces, both the host and the participants can review each other. Be sure to leave a review!
Here are the steps for getting set up to earn on Abacus:
Create your Abacus account and verify your email.
Choose your subscription package - shortly after purchase you will receive an email with your Virtual Makerspace link; this link is created specifically for you and is yours to distribute among customers, fans and participants once they sign up for your sessions.
Build your profile: What do you do? What is your passion? Describe yourself...your guests are going to want to know who they're interacting with. Showcase your favorite skills and projects and be sure to add some cool project pictures.
Once you receive your Virtual Makerspace link you will be able to post your listings. See our video tutorial on posting your first listing. PLEASE NOTE: in order to receive payments through PayPal you must have an active PayPal account. In order to receive payments directly into your bank account, you must enter your bank information in your profile under "Payments" > "Payout Preferences". We use industry leading software to manage payments between makers and their customers. Our payment software is certified and compliant with the strictest, most stringent level of certification available in the payment industry.
--
ABACUS is a creative skills marketplace that connects curious learners with experienced makers, hackers, crafters and artists through live, interactive sessions in VIRTUAL MAKERSPACES. Our Virtual Makerspaces are virtual environments similar to Zoom rooms or web meeting rooms so it has a familiar feel but notably unique. Abacus has teamed up with FanWide.com and can now create and assign these virtual makerspaces to our hosts/makers to use for live sessions of practically any sort.
Our makers and hosts use the ABACUS MARKETPLACE listing structure to offer live tutorials, sell DIY kits along with assembly and education sessions as well as live Q&A video walkthroughs. Listings for sessions can be found in the marketplace and once a session has been chosen (and reserved for a specified date and time) the host will meet the participants in the virtual makerspace and have the session.
ABACUS is a marketplace for real skills applicable to our changing world as well as a facilitator of discovery for fun pastimes and creative hobbies.
Even established makers, artists and teachers have started using ABACUS to learn new skills or hone existing ones.
Whether you're a host or a learner you can use the ABACUS marketplace and virtual platform to:
- Sort and connect people and their interests.
- Share your skills as a maker while making money.
- Find real makers near you.
- Learn a skills or hobby from someone who knows.
- Create a product or finish a project with the help of a maker.
- Learn about equipment, such as a 3D printer, laser, etc., that you've always been interested in. You can always requests demos.
- Promote your listings easily on social media.
-Play external videos and walk your participants through answering questions as you go.
FOR LEARNERS: Anyone over 18 can sign up for sessions to learn a new skill and participate in what is offered on the marketplace. Of course, parents can sign their kids up for classes, supervise and join in as well!
FOR HOSTS/MAKERS: From part-time hobbyists to professional makers, teachers and content creators, people are using ABACUS to make money by selling their creative know-how and renting their skills. Know how to do something very few people can do? Put up a listing announcement on social media and host a session for fans or spectators of your craft. Charge for participation...or don't and just do it to build your brand!
It's easy! After creating an account and setting up your maker profile, choose a price package. You'll then post a listing to the marketplace of any skill, hobby, demo you're willing to offer. You will receive a unique link to your virtual makerpsace which you can promote and distribute to your customers and participants.
When someone searches the marketplace for specific skills or sessions that match your specialty they'll see relevant listings. You can charge for participation (in the case of tutorials and video walkthroughs) or include the cost of the session in your kit or product.
Right now, in the midst of the COVID-19 crisis only virtual sessions are available. However, it has always been the intention of Abacus to also include in-person sessions with local makers and craftspeople in your local area as well. We will resume when it is safe to do so.
We use the words "Maker" and "Host" interchangeably but a host is anyone providing a service on Abacus. Hosts could be independent inventors, hackers, artists, teachers, tinkerers and crafters that create, instruct, or have any creative know-how they wish to offer on ABACUS. All skills levels are considered makers. We feature amateur and novice level makers all the way up to professionals on ABACUS. Most people don't learn their cool hobbies from professionals. We learn from friends, family, neighbors and other enthusiasts either in-person or online.
So, if you have creative know-how, some cool equipment to demo or past videos you've made that got lots of hits and subscribers then you can use ABACUS to make money. Get Started »
As a maker you'll be able to:
- Earn money.
- Manage your listings easily.
- Swap out and edit your listings
- Set your own schedule.
- Message and chat easily.
- Earn perks to more you share and make.
- Build your maker portfolio with our feedback and review system.
Want to learn a new skill or hobby? How about testing out that cool new Glowforge laser? It could be a good move for your business or crafting, but it will cost some serious $$$.
Let ABACUS help you. We're all about connecting the right people. If you want to learn about a new craft, try out some equipment (3d printer, laser cutter, CNC machine...etc.) you've had your eye on, Abacus can help you find a maker to give you a live session of what it's really like to run one.
Join the ABACUS marketplace to find makers near you who can help with your creative ideas. Get Started »
By using ABACUS, you'll be able to:
- Find a maker that fits your budget.
- Access to our secure payment system that holds funds until sessions are marked completed.
- Manage your sessions with our easy scheduler.
- Easy message and chat system.
- Build your maker portfolio with our feedback and review system.
We make learning a new skill or hobby easier by adding creative means to creative minds. We've designed the ABACUS marketplace to take care of the non-making details so you can enjoy the fun part.
You'll also be able to browse makers in your neighborhood and all over the country, but you'll also be able to read what others are saying about their maker experience by way of our review system. After each completed session, both makers and their customers are encouraged to review each other. As ABACUS is a peer-to-peer marketplace, this helps others know that each individual is safe and reliable.
Creating an account is free and all perks come standard when you join.
- Scheduling manager
- Secure payment system
- Messenger
- Profile
- Unlimited listings
- Review system
- Email support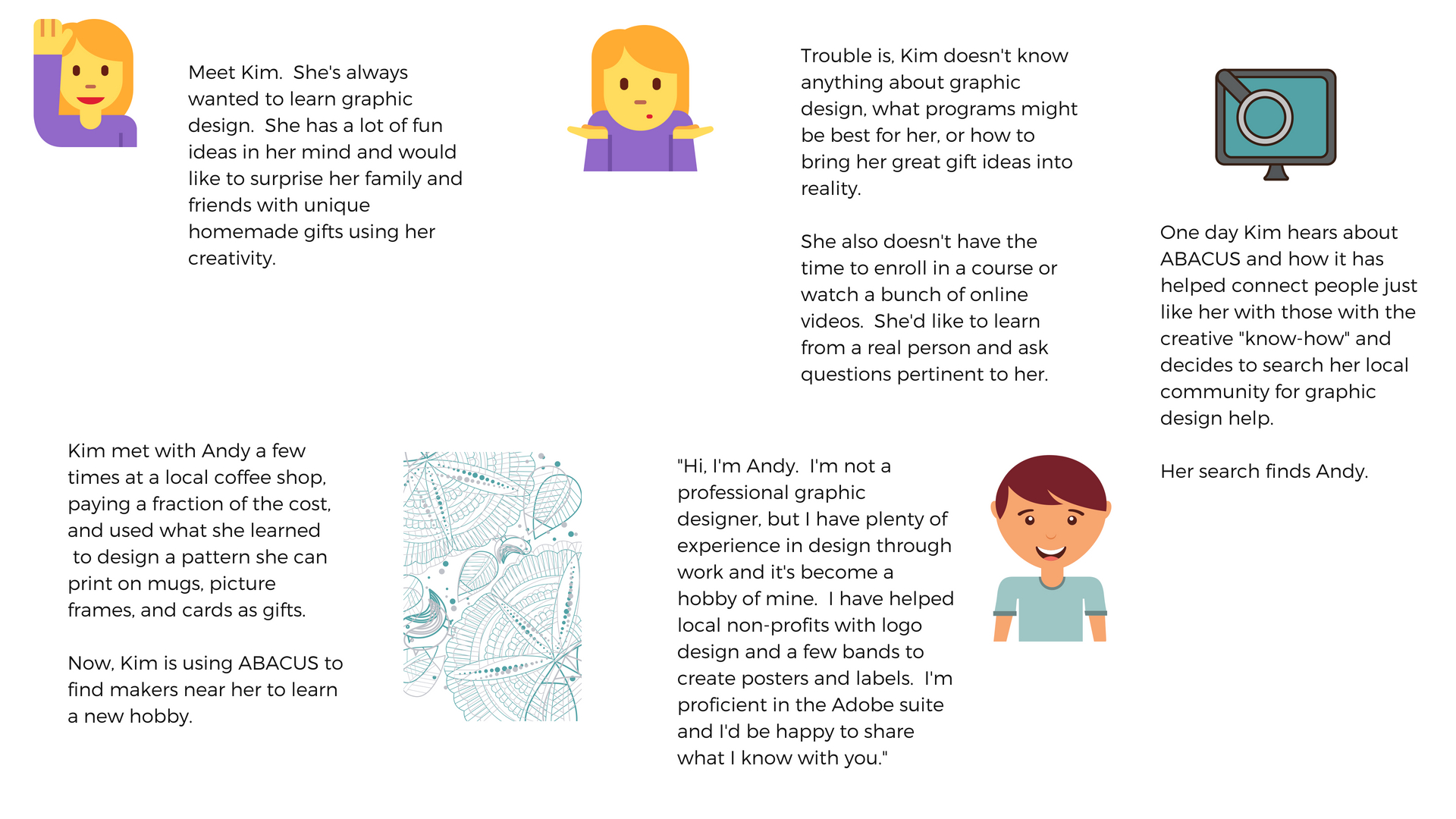 Want to make some extra cash just for being a maker on Abacus? It's simple, refer your maker friends or anyone you know with the creative skills, hobby know-how, or maker kit/DIY product for sale to Abacus and when they sign up with a subscription plan, we'll send YOU a $50 Amazon or Inventables gift card (or if you have a favorite local hobby supply store, that's cool too, just let us know and we'll do our best to hook you up). Be sure to tell your friends to include your name in the "Referred by" field when they choose their subscription. Then, we'll be in touch to give you some extra $$$.